Prebiotic And Probiotic With Zinc Sachets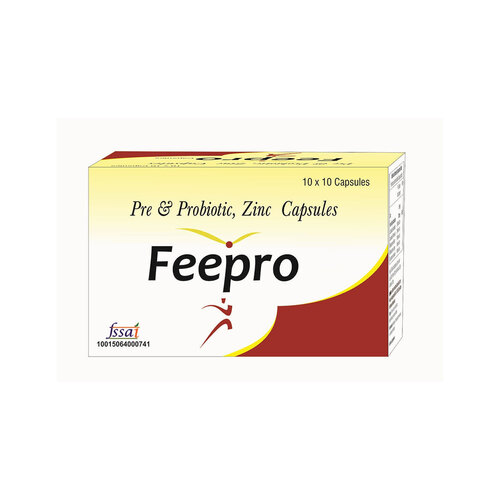 Prebiotic And Probiotic With Zinc Sachets
Price And Quantity
Product Specifications
Gelatin of animal origin, lactose powder, anti caking agents, empty capsule shall contains permitted colours.

Increase Immunity
As a dietary supplement one capsules on to two times daily after the main meal.

With Water, With Milk
Powder

Normal temperature
Product Description
Feepro pre & probiotic capsules unique combination against watery diarrhea. This is very useful in:-
1. Reduces intestinal motility.
2. Reduces water secretion.
3. Reduces secretion of electrolyte.
4. Ensures oral rehydration.
5. Diarrhea & dehydration. Zinc is a nutrient that plays many vital roles in your body. Because your body doesnt naturally produce zinc, you must obtain it through food or supplements. Pre-probiotic support immune system & promotes digestive health.
Promote gut health. As a dietary supplement one capsule one to two times daily after the main meal.