Body Active Multivitamin Multimineral Antioxidant Iron Softgel Capsule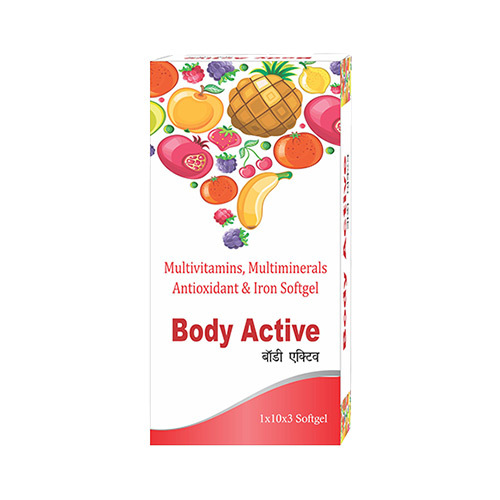 Body Active Multivitamin Multimineral Antioxidant Iron Softgel Capsule
Price And Quantity
Product Specifications
As a nutritional supplement take 1 tablespoon daily or as directed by the appropriate licensed professional.

Hydrolysate, L-lysine monohydrochloride, ascorbic acid, riboflavine, folic acid. Purydoxine HCL, thiamine hydrochloride, copper sulphate, magnesium chloride.
Product Description
Besides adding muscles & bulk grpwth means lot of energy & health too. Very high quality components with muscle enhancing & growth promoting properties. The complete package to revitalize the body. Heptaorange syrup an unique combination of multivitamin, multimineral with protein. Ensures increased energy & enhanced recovery. Kick starts growth In adolescents & convalescing patients. Helps in rebuilding & strenghtenig Muscles & imparts immunity. Extends the antioxidant advantage for longervity health. Relenishes & refurnishes all neglected micro nutrients. Direction:- As directed by the specialist.